THIS LITERALLY JUST IN: "The White House blocked a number of news outlets from covering spokesman Sean Spicer's question-and-answer session on Friday afternoon. ... Among the outlets not permitted to cover the gaggle were news organizations that President Trump has singled out for criticism, including CNN. The New York Times, The Hill, Politico, BuzzFeed, the Daily Mail, BBC, the Los Angeles Times and the New York Daily News were among the other news organizations not permitted to attend."
Let that sink in. Go on.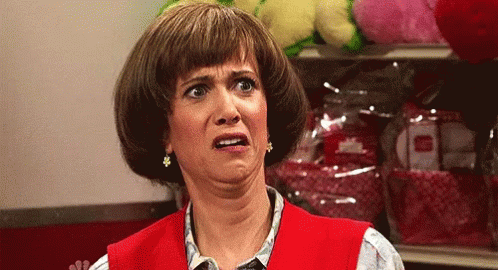 And now, back to our regularly scheduled programming.
A few days ago, I received an email from my mother with the subject line "Did you see this? Competition!" Contained therein was a link to CNN's way better-looking and better-funded
Trump promise tracker
. (Yes. Competition. Look out, CNN. I'm comin' for ya!)
In all seriousness, it's just one of several excellent promise-tracking tools currently available from your favorite fake news outlets. I highly encourage following 1-2 of them, but not all of them, because sanity is a non-renewable resource. Options include:
The "Trump-O-Meter" by PolitiFact, the latest in a series of promise-tracking projects, including the "Obameter" and the "GOP Pledge-O-Meter."
"Trump vs. Reality" by NBC News, who were smart enough to focus on President Trump's "10 boldest goals," instead of having to comb through a list 282 strong every Thursday night when they should be out drinking studying.
My beloved Atlantic, on the other hand, applies its signature long-form approach to the comprehensive and vindicating "Trump Promise Tracker."
Of course Public Enemy #1, The Washington Post, has some skin in the game. They've expanded their "Pinocchio" fact-checking system to include promise-tracking as well. This is one of my favorites, because it also features more nuanced statuses like "Launched," "Stuck," and "Compromise."
In a similar vein, the ABC News' "Donald Trump promise tracker" follows the progress of promises, rather than just the result, and clearly lists the events and decisions impacting each promise's trajectory.
Now that I'm done shooting myself in the foot...
...and singing half the Mulan soundtrack...
Kept and inevitably broken, respectively. President Trump has been nothing if not unpredictable, which is not necessarily useful to inspire confidence in one's allies. This has been especially evident in the confusion surrounding the US's position on NATO, one of the strongest military alliances of all time and fairly critical to maintaining European stability. (Yes, I know, my bias is showing.) Here's the quick-n-dirty version from the crooked writers over at Vox:
"Trump is at the heart of the uncertainty surrounding the future of NATO. On his path to the White House, he repeatedly slammed NATO as "obsolete" and criticized allies for not pulling their weight on defense spending. Then he reversed his position on NATO, based on the either misguided or deliberately false claim that NATO had "changed their policy" due to his criticism. Later on, he expressed ambivalence about it. Then right before taking office, he decided that the alliance was, in fact, obsolete. Now in office, his team is trying to thread the needle by saying the US loves NATO but its love is conditional."
I literally have a Google Alert daily digest for NATO, and I'm still confused as hell about this. The inevitably broken aspect of this promise is the claim that "no one is going to touch us." Hopefully I'm wrong, but one attack is all it takes to decimate that promise.
Broken. To not actively pursue an investigation into intelligence agencies' conclusion that a hostile foreign power interfered in our elections is to definitively not put America first. A joint report issued by the FBI, CIA, and NSA at the beginning of January concluded that President Putin of Russia "personally ordered an influence campaign in 2016 aimed at the U.S. Presidential Election." President-elect (at the time) Trump open questioned the intelligence assessments, citing claims by WikiLeaks founder Julian Assange that Russia was not the source of the leaked DNC emails. Given President Trump's 2010 description of WikiLeaks as "disgraceful" and his suggestion that its organizers should face "the death penalty or something," this is quite an about-face.
Nahal Toosi of Politico wrote, "The new tweets added to the discomfort in the national security circles as well as top Republicans about Trump's seeming disdain for America's intelligence officers, as well as his fondness for Russian President Vladimir Putin, whom he's often praised."
Kept, so far. Russia and Turkey recently led Syrian peace talks in Astana, Kazakhstan. Russia invited the Trump administration to participate, but "it was clearly a Russian defined process." This week, the first U.N.-led peace talks commence in Geneva, Switzerland, where a senior Western diplomat said, "We have no choice but to play Russia's games and try to resist attempts for a full-out military victory and try to bring them back to Geneva and hope something can be achieved here ... It is still an open question if and what an agreement would look like that Russia could accept."
191. Ask TransCanada to renew its permit application for the Keystone XL pipeline so that it can be approved.
Kept. Last month, President Trump signed executive orders reviving the Keystone XL and Dakota Access pipelines, and TransCanada said it was preparing to reapply for the pipeline permit.
Broken. Let's set aside for a moment the fact that the specter of Watergate is invoked far too indiscriminately in the world of political scandals. And sports scandals. And entertainment scandals. And tech scandals.
Jeff Sessions will revolutionize the Department of Justice, the agenda of which is shaped by the attorney general's priorities. For example, Eric Holder and Loretta Lynch focused on criminal justice reform, ratcheting back the war on drugs, and strengthening protections for the LGBT community.
Attorney General Sessions does have a record of interest in prison reform, but that's about where the similarities end. He'll likely enforce the president's hard-line immigration agenda, push conservative social issues (e.g. supporting "religious liberty laws" that allow businesses to discriminate against LGBTQ clients on basis of religion; favoring the Johnson Amendment, which prevents partisan engagement by religious groups; and challenging Roe v. Wade at the federal level), and move away from prosecuting terrorism suspects in Chapter III civilian courts.
He will almost definitely not "reform" the Justice Department.
Broken. This is the problem with absolutes. Why do I have to keep reminding you, Mr. President? All it takes is one counter-example.
On Tuesday, a federal appeals court upheld the State of Maryland's ban on assault rifles, ruling that the Constitution does not protect the right to possess "weapons of war."
Boom.